Join us at NYU in NYC!
NYU Shanghai offers monthly information sessions in New York City for students who are visiting NYU's campus in New York City, cannot travel to China, or just happen to be in the area. These sessions take place at
NYU Jeffrey S. Gould Welcome Center

50 West Fourth Street
New York, NY 10012
212-998-4550
All NYU Shanghai Information Sessions begin at 11:30 a.m. and will take place on the following dates:
November 9, 2017
December 14, 2017
To reserve a space in one of these sessions, click here, and select NYU Shanghai Info Session from the Event Type drop-down list at the top of the page.
Take a Virtual Tour! 
Explore the Pudong campus virtually in our 360-degree tour, stopping off at the state-of-the-art auditorium, library, science labs and more. In this tour, you can also visit Jinqiao residence hall and see where students live, or step off campus and see some of the sites of the city that are on our doorstep.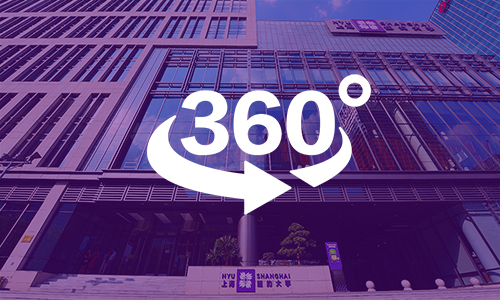 Visit us in Shanghai!
We currently offer campus tours in Chinese and English: 
 
To request a tour in English, please fill out this form and a member of our admissions team will confirm within 3-5 days.  If you cannot access the google form, please email shanghai.admissions@nyu.edu with your request.
To RSVP for a Chinese tour, please go here.
Our Welcome Center is open Monday through Friday (except public holidays)
Hours: 9:00 AM to 12:00 PM, 1:00 PM to 5:00 PM
Location: 1555 Century Avenue, Pudong New Area, Shanghai     
Contact: +86-21-2059-5599
Public Transportation: Century Avenue, Metro Lines 2/4/6/9 Exit 6